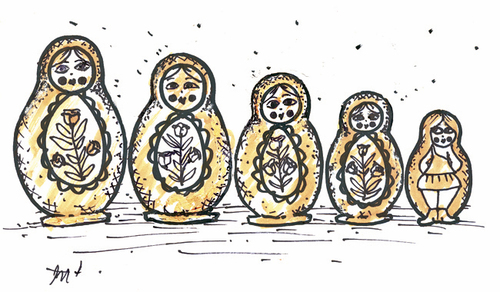 In our home, we have had four generations under one roof: a Baby Boomer, a Gen Xer, Generation Ys (millennials) and three Generation Zs. One reckless Gen Z kamikaze-child (who shall remain anonymous, but is my 20 year-old daughter, named Shannon who lives at…) with uncharacteristically scant concern for her immediate environment, dared to say to me tonight how 'awful' it must be to be a boomer nowadays because 'you have to scroll so far down when you are looking for your birth year on electronic forms.'
Sadly, she is not wrong. And that's not all. Last night I played one of those stupid Facebook games in which you had to put in your birth year and see what was hot on the charts back then. So, I tested the fun on my own wall by putting in my birth year (1964). But damn, it made me feel old. There were all my FB friends with their disco songs appearing on their posts. Not me…
I got The Beatles' Hard Day's Night – in black and white. Not even a grainy, colour album! I have never even been a Beatles fan.
It made me feel old and I guess I've been feeling that unconsciously for a while lately. Just this week I went down a FB wormhole about what to wear, what make up to use and what hairstyles to choose to make a woman look younger. What a waste of 30 minutes of my ever-shortening life!
But today I went off to the lovely Aruna and had my hair trimmed… actually, I asked her to lob off about 15 centimetres of fading lockdown golden locks. And I love it!
I do actually look younger, but my new coiffure hasn't magicked away the post-lockdown belly blubber or smoothed away the mid-fifties wrinkles, more's the pity.
Truth is, my mom passed away at 56 and I have 3 short months to reach that ceiling before I have to enter unknown territory. It's a scary thing; hence my over-focus on age.
Growing older does have its benefits though because now that I am …. um of mature years… I have the confidence to be more myself even though I realize that I only have a few more years in the workplace before I get put out to pasture. (Mind you, if my children had it their way, they'd have taken my car away and relegated me to the cottage in the garden already). But  I have reached the age that I finally like myself, warts (or should I say liver spots) and all. And actually believe I have something to offer the universe.
I wish I had had this self-belief 20 years ago, but life had kind of beaten me down into self-doubt at one stage. I used to be terrified of public speaking for example, and having all the eyes in a room on me. There have been moments when I have entered a room of my peers and heard that song from Prince of Egypt thumping in my head, 'You're playing with the big boys now…' But I like to think I've held my own. I even once forced myself to speak at an International Conference I was invited to present at (on educational technology nogal!).
Whatever I may have done in my own life though, I have realised is the truth of that old saying, that it is your children who are your life's work. I can certainly say that my best achievements have been my children. It is exhilarating to see how they are changing the world in their own unique fashion: in film, in commerce, in football, in art and in full-on passion.
'Sometimes, your greatest contribution to the universe may not be something you do, but someone you raise'

Anonymous
So, you know the longer your Memory Lane, the richer it is with moments of growth and triumph. I may have been born in the year the Beatles sang about working your guts out and coming home to the joy of loved ones (I was born on a Saturday and 'Saturday's child works hard for a living,' the old rhyme said too, so what chance did I have in life?), but the joy IS in the coming home. It's in the laughter at the dinner table; the sparkle in his eye; the feelings of pride that bubble up in my chest so often when I watch my children (and I include my schoolchildren in this); and the knowledge that there is still some life left in this old 'dog' of which the Fab Four spake.
I have been thinking a great deal about my mother lately. I suppose because I shall soon bypass her in age. I hope she would have been proud of me. She'd not be impressed by my liberal use of Anglo Saxon words, of course, nor my still too-loud voice, but I like to think she'd love the way her grandchildren have turned out – not too many obvious tics on display, and young people with compassion and commitment.
I used to feel horribly jealous when I saw women with their mothers out and about and still wish I could have had that for longer with my beloved mother. I wish we could still discuss literature and howl with laughter until our stomachs ache. She had an amazing laugh which belied her serene facade. She was a gifted writer, who put my sister and me before everything else. She showed her love by feeding people and had an inner goodness that I permanently aspire to.
I could live to twice her age and never be the woman she was.
She used to joke that only the good die young. And then she did.
She did say I'd get my comeuppance one day, so no doubt she fell off her cloud laughing when Shannon commented on my age tonight, especially because I am almost hers!
But if only the good die young, I have many years left to live – long enough to watch Shannon get her just deserts when her daughter laughs at her. (I'm not vindictive or anything…) My mother may have been a member of the Silent Generation, but her legacy of fun lives on. Just much louder.
… and my new haircut makes me look younger. So this is 56th-anniversary-restoration-album time…
And there is so much more to come.
A Hard Day's Night

It's been a hard day's night, and I've been working like a dog
It's been a hard day's night, I should be sleeping like a log
But when I get home to you I'll find the things that you do
Will make me feel alright

You know I work all day to get you money to buy you things
And it's worth it just to hear you say you're going to give me everything
So why on earth should I moan, 'cause when I get you alone
You know I feel ok

When I'm home everything seems to be right
When I'm home feeling you holding me tight, tight, yeah

It's been a hard day's night, and I've been working like a dog
It's been a hard day's night, I should be sleeping like a log
But when I get home to you I'll find the things that you do
Will make me feel alright, oww

So why on earth should I…

Source: LyricFind