---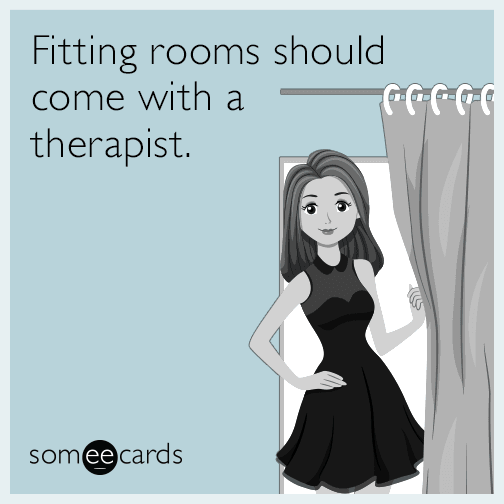 I made the mistake of trying on a pair of pants for size in Woolworths, yesterday in their brand new shiny change rooms. Too shiny. I didn't buy the trousers. And it was the place's fault.
If I were asked to survey fitting rooms in clothing stores, I could really give them some pointers.
Firstly: subdued lighting is a must. Harsh neon lighting just doesn't do it for my skin. The last thing you want if you're trying to flog clothes is for me to be so grossed out by my own face that I cannot look in the mirror. I do not know anyone who looks good under fluorescent lights. For me it is certainly not my best look – the freckles stand out, surrounded by pasty, creamish blahness, no matter how many layers of face paint and contouring have been applied. I have dark rings under my eyes too which make me resemble a nagapie at the best of times. I do not need stage lighting to assist. Also if I am tired, the little critters are Gucci-carry-on-luggage- sized bags, so they definitely detract from the garments I am fitting on.
And it's not just our faces that we have to see in this light: it is our derrieres, which are normally…well…behind us, where we can pretend they are smooth discs of even, beach-ready roundness. Instead we are confronted by massively cratered moons which are nothing like Queen imagined in 'Fat-bottomed Girls' – multiplied by three – going all the way to infinity if the looking glasses are angled into Alice's bizarre world. Personally I believe the dark-side of the moon is a better look.
Mirrors should also be artfully angled so as to make one be longer and slimmer. Even if we know this is a clever illusion, we still want to imagine ourselves looking a bit like the impossibly slim wax mannequin, adorned outside on the shop floor in the garment in question. (Have you noticed that they are always on tippy toe – probably so they can show off outrageously uncomfortable high-heeled shoes too – but that makes them seem even taller.) Every film study student will tell you that a low angle shot makes one look taller and more powerful. I'm happy to go with both those delusions.
Curtains versus doors? Definitely doors (which lock, please). So often, one ends up with a faulty door latch. One that bolts is preferable. While sumptuous curtains look good, draped dramatically across the opening in oh-so-elegant boutiques, I am always terrified that some over-eager stick insect assistant will just pop her head in and reveal me in my big panties so that the creepy chap lounging outside will have an eyeful of the rear end of the Bentley.
The door should fit all the way to the floor, I beg you.
For those of us who have had divide clothes into 'Not-in-this-lifetime,' Maybe-if-I-lose-10kg' or 'Oh-Baby-You're-So-Hot! hooks (there must be at least three hooks) while dodging a pair of boys playing with a car, and hopping on one foot as you attempt to free the inside-out trouser leg from the shoe you should have removed first, it is no fun then to have said vehicle be sent down the back strait and under the door, out of reach of the soon-to-be screeching boys (even men-children hate shopping).  Then you have to twist around quickly, with your boot still caught in the once neatly ironed pants, to prevent over-helpful big sister from lurching out to fetch it for them, at which point, once again the dodgy oom outside is treated to a gander of your moon broekies.  If it's not your own children who reach under those awful saloon-style doors, it's other matrons' sticky fingered brats whose fingers appear like tentacles of slimy, Nik Naks goo tempting you to injure said digits with a healthy tap dance. So, dear retail outlets, given us full-figured doors I beg you.
While pondering whether objects in the rear view mirror are closer or really just as large as they appear, you realise it is the fault of those disturbingly deceptively sized numbers that are the right size, but too small:  You could swear they will fit you and then you get the bodice on and your arms half in and 'gasp', you can't breathe, and – worse – it's not on properly and no matter how much you attempt to make like Connie the Contortionist, you can't get it off. Inevitably it is at that moment that Shannon will have put a Jelly Tot (the bribe to 'behave') in Liam's ear or Caitlin will have swallowed yet another R2 coin. And you are, like 'Chad' in Charlie's Angels – well and truly STUCK. 'Ripping your clothes off' takes on a whole new meaning, but the temptation is real.
And you can't really leave the cubs outside the cubicle because then just as you are realising that  what appeared to be stylishly loose fitting on the rack merely hugs all the unmelted baby fat, you hear Michael's infectious giggle becoming louder. And you just know something is up out there. Dreading that it is your children's paws which have invaded another patron's shopping nightmare and which are about to be pierced by a suburban stiletto heel, you burst out to check/glare/chide so you at least appear to be in control of the five worms lined up against the wall, catching the eye of the petite assistant who frowns at the sight of you balancing a dress on your hips and once again there are those knickers for the old man who is seeing more of your skin than a Russian dancer at Mavericks.
She shakes her head knowingly as you hand her the unpurchased hangers of clothes as you leave shamefacedly, wondering why you can never find anything to buy. Or else you avoid the body-shaming experience entirely and just buy whatever looks attractive on the hanger, only to end up with a cupboard full of ill-fitting clothes.
Well that's my excuse anyway.