We sail within a vast sphere, ever drifting in uncertainty, driven from end to end.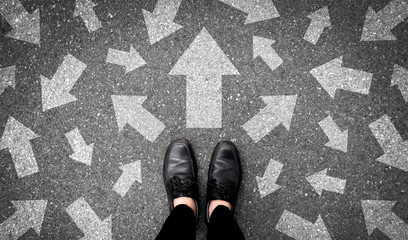 The brain is a weird organ.
According to Dr Bryan E Roberson writing for Psychology Today and Forbes, the brain prefers to know an outcome one way or another, even if the outcome is unpleasant. According to him, scientists have discovered that job uncertainty, for example, is worse for your health than actually losing your job. British researchers discovered that study participants who were told they would definitely receive a painful electric shock felt 'calmer and less agitated' than those who were told they only had a 50% chance of getting the electric shock. So uncertainty is problematic.
This puts us at a slight disadvantage during the coronavirus lockdown, when even if we'd prefer a negative outcome that is certain, we cannot get absolute answers, because so much is intangible and uncertain.
For example, knowing schools will only re-open in September, horrible though that thought may be for parents struggling to teach their offspring the intricacies of long division and educators being jettisoned into the morass of remote teaching who hope parents don't teach them old-fashioned long division methods), is preferable to this are-we-aren't-we opening-in-May twilight zone we're occupying at the moment.
My friend, Frank said the other day he almost wishes he could just get the virus and be done with worrying about getting it whenever he goes out. His view, though a rather desperate response to uncertainty, is not an isolated one.
Many people are recording increased insomnia, brought upon by fears of what might happen. I am battling to fall asleep of late, and upon my enquiring about her 'wellness' in this time, one of my colleagues told me she is waking up at 4 am worrying about a multitude of things, running a myriad of awful scenarios in her mind. Many others are similarly lying awake imagining the worst-case situations which may or may not in fact ever come to pass (what my aunt calls 'borrowing tomorrow's troubles'). My insomniac friend can attest to not being alone in this midnight mental morbidity, because when she goes online in the witching hour, she sees how many others in her network are also online at the same time.
And that raises another contributor to our uncertainty angst: watching too much news. I remember being in the USA after 9-11 and psychologists telling viewers to stop watching 24-hour news channels because not only do they stream permanent panic, the dramatic music and tone of newscasters and talking heads amplify stress levels. And they seldom agree with one another so the channels tend to exacerbate uncertainty.
I want to put in a word here about children and stress: be careful of projecting your anxiety onto your little ones. The generation of young children living through this year (and what follows) will almost certainly be somewhat scarred or unlikely to escape unaffected. Infants (and their older siblings) cleave to our emotions instinctively and know we are stressed even if we don't know we are. They know when our toddler-tolerance has reached its capacity and they sense we are uncertain, even when we pretend we are not.
And children are still learning to process emotions so are less adept at prosaic acceptance of things. Someone on my neighbourhood Facebook group posted the other day about her 10-year-old who burst into tears, sobbing uncontrollably about how afraid she was. So, talk to your children about fears. It's okay to own up to being a bit worried, but be sure to say how you are going to overcome your disquieting thoughts, so they know it is possible to cope.
Owning your uncertainty with them also empowers them by allowing them to see you overcome being less than perfect and dealing with the nebulous nature of uncertainty. I'll never forget when my eldest son failed his driver's licence in matric, and shared his emotions in an inspirational speech at school. He was one of the 'cool crowd' and by owning up to being less than perfect, he gave so many others permission to not be perfect also. But he gave them a way out of the pit he was in (his mother bought him lessons!) and that is how we can assist our beloveds – own it and make a plan to overcome it. Just don't brush off their fears. They are real.
'You can be both a masterpiece and a work in progress simultaneously.'

– Sophie Bush
The effects of COVID-19 lockdown will not vanish when the nurseries re-open. Who knows how our children's early development will be impaired by being surrounded by adults in masks, not seeing their smiles to respond to, or their lips to mimic sounds. Baby class educators will be torn between doubling down on face protection or only perspex covering to allow their charges to imitate them, as they need to. There are no easy answers to these predicaments, but the schools that know about these potential problems though, are the ones which will make provisions to counter such obstacles. We cannot become bogged down in these fears of what could go wrong.
There is a definite link between emotions and negative thoughts, but likewise there is a link between imagining positive outcomes and being less anxious. That makes sense of course – and my mother always said psychology was just common sense. In other words, in order to reduce our anxiety in uncertain times, we need to think of positive potential outcomes more deliberatively to improve our mental health and assist in coping with uncertainty.
The much-maligned little Pollyanna of literature, she of the count-you-blessings sunshine philosophy actually had it right when she said:
"And most generally there is something about everything that you can be glad about, if you keep hunting long enough to find it." ― Eleanor H. Porter, Pollyanna
If you don't believe her, Oprah said it too:
"Be thankful for what you have; you'll end up having more. If you concentrate on what you don't have, you will never, ever have enough." — Oprah Winfrey
(Of course, if your couple of 'blessings' happen to have two feet and two arms, runny noses and badger you with endless questions while you are trying to tele-conference, this might be a difficult strategy to reduce your stress about uncertainty – especially if Oprah's suggestion is you'll end up with more 'blessings' and you had given away the black motorbike!)
[Aside: If you don't want surprise babies/blessings: never give away the black motorbike. I should know].
But I digress.
How can we combat uncertainty? It's not just about being positive and hopeful, although I laughed out loud at Jennifer Saunders who declared that the good thing about the delay of the Olympics is that we now all have a chance to train in time to qualify! (Not even Pollyanna would agree with her on that!)
 According to Lorena Pasquini, Anna Steynor, and Katinka Waagsaether of the University of Cape Town, there are 3 strategies humans employ when dealing with uncertainty:
1. 'Strategies of suppression refer to the denial of uncertainty, such as ignoring uncertainty, relying on intuition, or taking a gamble.'
People like my friend Frank who are wanting desperately to put an end to the tension of will-I won't-I get it, are in danger of engaging in risky behaviour like purposefully not washing hands (just urgh) or refusing to wear a mask, in order to escape the stress of not knowing. This thinking also explains why some people are calmer about death when they know they are about to die than the anxiety they experience before a diagnosis; why parents of children who have gone missing in many cases suffer more than those whose deaths have been confirmed.
Gambling intuitively or risk-taking in business may be exceptional qualities in the normal business world, as exemplified by the likes of Richard Branson and his ilk, but at a time of crisis, these same mavericks are crying out for government bailouts.
Leaders who respond with intuition and gamble on outcomes of herd immunity, like the leaders of the USA and Sweden at the moment may live to regret not being more measured.
2. 'Strategies of reduction involve trying to increase information or predictability.

Some examples of reduction tactics include collecting more information, asking for advice, or delaying action until more information is available.'
This is what the South African education departments are doing at the moment: consulting, researching, delaying decisions of when and how to return to school. Companies, shops and schools will be delaying re-opening strategies until they have a better idea of what lies ahead. This is obviously a practical way forward and a more scientific approach, but can cause a hugely emotional response from clients and employees desperate for certainty. However, as New York Governor, Andrew Cuomo (one of the only American politicians making sense at the moment) said today at a press briefing:
'Emotions cannot drive re-opening strategies; facts must.'

– Governor Andrew Cuomo
3. 'Strategies of acknowledgement take uncertainty into accountin selecting a course of action or preparing to avoid possible risks.'
When society does unfurl itself from the lockdown-hibernation, allowing for uncertainty is so important. The plain sense of South Africa's planned return from lockdown takes this into account, with its multiple stages, allowing for upwards and downwards movement between levels depending on changing circumstances. It involves managing change.
I am so glad we have someone with emotional intelligence and psychological insight leading us through this crisis. Thank you, President Ramaphosa!
In the end, we are alive. And that is the whole point of this exercise.
So, be calm; think of opportunities which can be had out of this difficult time and act on them, and be grateful to be alive. Stop worrying and try multiplication at 4 am – like how many sheep are needed to make a Zara jersey – that'll be better than counting sheep:
"But I have my life, I'm living it. It's twisted, exhausting, uncertain, and full of guilt, but nonetheless, there's something there."
― Banana Yoshimoto,The Lake
---
[1] Ntate Cyril – Father Cyril – a reference to President Cyril Ramaphosa